The term Big Data is a buzzword now-a-days which has no specific formats and defies traditional storage systems. The data can be structured, semi-structured or unstructured and generated faster than ever. For example, information post over social media, video upload in YouTube etc. Machine generated data like data recorded from sensor and logs are also becoming part of big data having more magnitude then human generated data.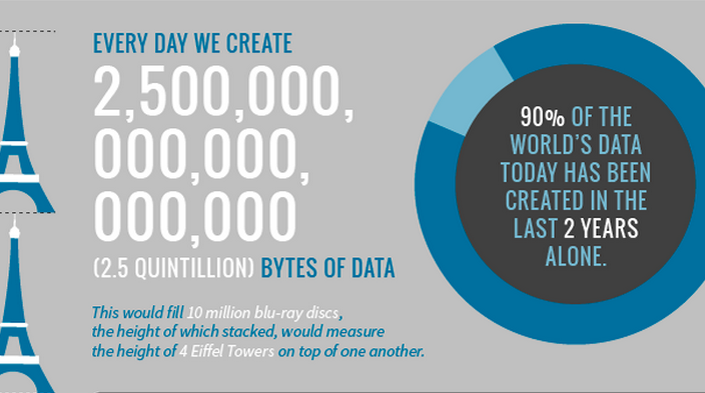 Though Apache Hadoop is a popular framework for distributed storage and batch-processing engine, other tools/frameworks are also necessary to support the entire ecosystem and data processing cycle. All major industries including Telecom, Oil & natural, Pharmaceuticals and many others have  started using big data processing/analysis using Hadoop and it's ecosystem for intricate analysis of data across all the dimension for future strategic decision.
Leverage Irisidea's technical expertise for your voyage to Big Data processing and analyzing boundary-less Data Ocean. We can be hand-holding, solution provider, assist on decision making on adoption of various open source frameworks, tools etc those will be needed on different phases of big data processing life cycle.
-We offer platforms and solutions those are intuitive, intelligent and easy-to-use for non technical business leaders to make sense of data
-We help data driven enterprises, to take cost, time, coding, and demand for technical skills out of their data initiatives.
– Data Ingestion, Data quality, Data-in-Error
– Digital Data Transportation.
– Data Lake, Digital Data Storage
– Distributed, Parallel processing
– Domain specific analytical solution
– Executive Dashboards and actionable insights
We advise organizations to define and implement data governance strategy, policies and frameworks to meet your changing business needs.
Strategy and Business alignment
Industry Regulation and Compliance
Governance Maturity Model
Hand-holding and Change Management
Tools, Technologies, and Frameworks
Training for Data Stewards, Data Owners, and Data Scientists
Analytics-as-a-service is uniquely prepared for organizations and business leaders, who want to stay ahead of the competition in addressing fast shifting dynamics of customers and markets.
The service is tailored to your needs and is provided to your organization without your investments in licenses, teams, skills, and infrastructure. We encourage our clients to own the data storage; although we do offer the management services as part of the package.
We have invested in tools, technologies, and expertise to bring required analytics on-demand and in a timely manner.
Unlike other players in the space with similar offerings, our platforms give us the confidence to offer you agility and changes in your demand without increased costs and time
The box contains
Industry standard dashboards
Associated KPIs
Data models
Facilities to fetch data from your data sources and populate in built in DW and Data Marts
Built-in and configurable required transformation
Industry specific and data set specific quality and compliance check
Typically you can start receiving the insights in your data within 48-72 hours.
Contact us for your specific needs and we will be happy to deliver your box.
Our experience with big data
By knowing the products trends, it was easy to strategies campaigns and offers.
By knowing customer's sentiments and behavior, business was able to improve the customer base and retention.
Helped business changing strategy to increase revenue on multi-channel commerce by analyzing products reviews from their customers.
Helped hospital hiring right health experts, expanding their reach and order specific medicines, using disease trend analysis which is crucial in epidemics.
Based on the dashboard and charts, decision making made easy for the management.
Analysed and predicted customers' buying pattern for eCommerce company to improve the sales.
Optimized cost for spare-parts by doing historical data analysis.
Increased self service by empowering users with harmonized data and drilled down analytics.
Research papers & publications