Transformation Strategy with IoT
Throughout the world, businesses are constantly searching for new ways to innovate and grow. By adopting Internet of Things (IoT) technologies, businesses have been able to achieve exponential growth. 
The Internet of Things (IoT) is the interconnection of physical devices, vehicles, machines, buildings, and other items with computers or other devices over the Internet.
Digital transformation is an ongoing process helping organizations integrate and increase the use of digital technology to achieve long-term growth and be aligned with the fast-paced evolving industry.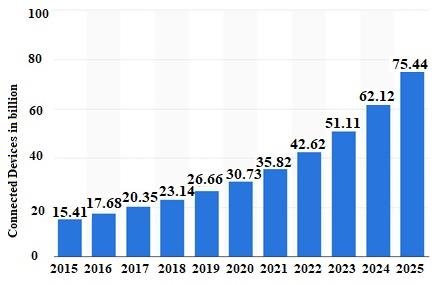 How does IoT enable digital transformation?
Elements of successful IoT collaboration with Irisidea
In order to speed your time to market, we define the right IoT landscape for you to kick-start your IoT journey. A structured approach to understanding your business needs is used to identify your IoT needs and solutions, thereby accelerating your time to market with low risk.
We provide the end to end full stack IoT solutions starting from sensors and hardware to advance applications for all the above domains and many more. We provide the best and most reliable solutions that always work for our users and always.
We also customize our solutions to users' environments and users' needs to ensure maximum user satisfaction.
We will help you develop your IoT platform with our experience with platforms, domains & technologies.
We will implement your custom IoT applications and workflows for your business need in a collaborative mode.manner
Offload your IoT tasks to our expert in order to reduce costs, improve service quality & expedite the time to market.
We can also work as a backbone to your in-house delivery team and provide ticket based support for your existing applications.
How do we put you on IoT Map?
Transportation & logistics
IoT changed the transportation and logistics industry by making it more efficient and safer. We also provide a range of solutions for the same. Our solutions start from live goods and vehicle tracking to making it safest by providing complete health monitoring for vehicles to goods and by providing the most efficient way of doing the operations and minimizing the risks.
The IoT has had a transformative impact on the monitoring and security industry, revolutionizing how we safeguard people, assets, and environments. Our solutions provide all kinds of monitoring and the deepest security. It starts from simple Surveillance and Video Monitoring to the slightest anomaly detection and information systems.
Safety must be ensured at every place starting from your home, and office to mines and powerplants. IoT is getting used greatly in safety by informing and taking predefined steps in case of minute leakage in mines or maybe a fire at your workplace. Our solutions ensure the complete safety of our customers and make your workplace safer and more efficient.
Nowadays Everything is getting smarter including homes. IoT enables smart homes so that users can do their day-to-day work easily and efficiently. Smart homes not just ease life but also saves money by saving power and making things efficient. In smart homes, we provide a range of solutions starting from controlling your appliances from the internet to synchronizing all of your appliances so that you can control them on your own.
Agriculture is the lifeline of humanity but is also considered the most labor-heavy and risky field. IoT systems bring automation to agriculture and help the farmers. Our agriculture solutions include a variety of services starting from smart irrigation to pest detection and control. Our solutions maximize the crops and minimize the risk of pests and bad crops